Kofa Mountains Backpacking Trip, February 2006: Day 1
Added 2 April 2006
---
Day 1 | Days 2 and 3
---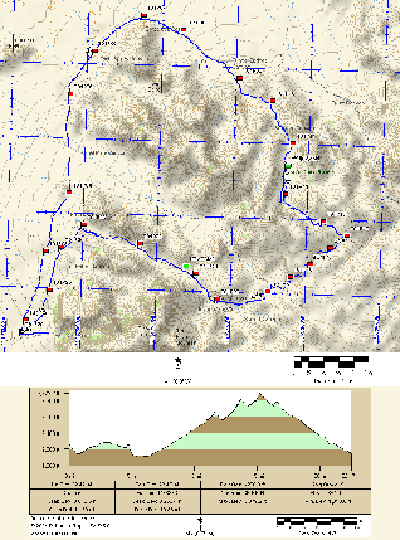 I was hardly able to contain myself as I looked forward to this trip. I've been wanting to check out the Kofas for a long time, and was also looking to spending some time with an old friend that I don't get to see much anymore. I spent the Friday morning before the trip rushing around like mad at work, and managed to escape on time (just after 11:00 a.m.) to run a quick errand before picking my friend Steve up at the airport for our weekend adventure. I picked him up at noon, and we made a quick stop at my place for lunch before heading west towards Yuma. We left at 1:00 p.m., happy to be on the road to Kofa National Wildlife Refuge for a three day backpacking trip.
Our first stop was the Refuge office in Yuma. We arrived with just 15 minutes to spare and got some very helpful information from the Refuge staff. We were surprised to learn that the Refuge contains quite a few reliable water sources, which meant that we could simplify my plan, in that we wouldn't have to stash water that night for pick up mid-way through the hike.
The map on the right is the route we took. Click on the map for a larger (and actually legible) version. Except for some challenging route finding on Day 2, it turned out to be a very nice route.
After some quick stops for water and some dinner to go, we headed north out of Yuma to the Refuge. Some ways out of town, I realized that I forgot to get gas. We were far enough away from Yuma, that it made more sense to push it into Quartzsite, beyond the Refuge, before heading into the back country. We didn't make it to Quartzite with much gas to spare. I felt pretty stupid for not being more careful. Because of the detour to Quartzite, we didn't get onto the Refuge until right near dark. But at least we didn't have to drive up Burro Canyon to cache water near De la Osa Well that night, thanks to the information provided by the Refuge staff.
By the time we got to the Palm Canyon trailhead, it was very nearly dark. Steve set his tent up in the dirt parking lot and I decided to sleep in the truck. We stood around watching the stars for awhile, and saw three satellites fly overhead. It was still early evening, so Steve suggested that we hike up the half-mile long Palm Canyon trail to get the blood flowing. We obviously didn't see much, but it was a fun hike nonetheless. By the time we got back, it had become a pretty chilly night, so with no fire to warm us, we quickly went to bed, both feeling more tired than we otherwise would have expected to be.
This morning (Saturday) we were up at the crack of dawn. We ate a quick breakfast and hiked up Palm Canyon Trail again, sort of a pre-backpack warm-up, with the added bonus of daylight. We quickly made it to the viewing area, and decided to bushwhack it up to the palms themselves. The climb up to the palms isn't extremely difficult, but it is very steep, requiring sure-footedness and some confidence. Knowing a couple of climbing maneuvers won't hurt either.
What is neat about Palm Canyon is that the palms in the Kofa Mountains are one of only a few places where you can find the only native palms in Arizona. They are actually inappropriately named the California Fan Palm, even though they are not native to California. There are only perhaps a few dozen palm trees in the Kofa Mountains, and they are likely holdouts from long ago when Arizona was a cooler and wetter place. It is thought that the palms have retreated to these very small and isolated pockets, where the microclimate and available water have kept them alive. Another theory is that birds or other animals have carried the seeds of these palms into remote canyons, where the micro-climate was suitable for them to grow and thrive.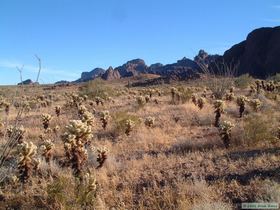 When we got back to the truck, we drove back down the road a short distance and started trekking north cross-country along the western flank of the Kofa Mountains.
Overall, the hiking was fairly easy except for the occasional steep-banked arroyo that had to be crossed.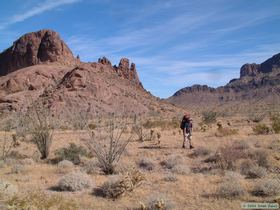 At one point, we happened upon a very old tin can stuck onto an ocotillo in the middle of the desert. How old it was, and who put it there, were intriguing questions that I would love to know the answers to.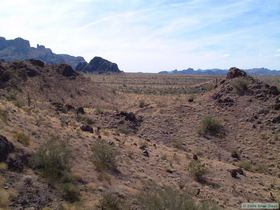 We picked our way through the Teddybear cholla and other sharp plants over variably rocky terrain for about six miles until we came to a road at the base of Brass Cap Point. It was the road that we would have driven the night before to cache our water had we needed to.


We followed the road southeast for a couple of miles before turning south to continue our off-trail trek. By this point, we had covered more than eight miles, not including the hike up Palm Canyon, so we were both getting a little weary.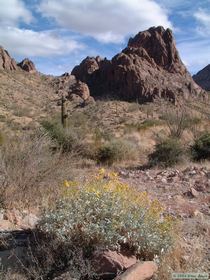 I love off-trail backpacking, but in my opinion, it takes a heavier toll on the body. The hike up the canyon was a bit more difficult than the first part of the hike as well, because we were hiking largely in the wash itself. Washes make natural travel corridors, but the loose sand and gravel can really rob energy from your legs. Still, it can be much more enjoyable than fighting catclaw and cactus in the surrounding desert.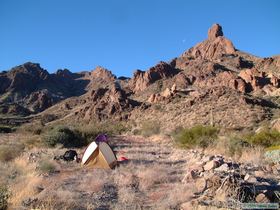 After another 2.5 miles up Tunnel Springs Canyon, we had had enough and found a relatively flat piece of ground to set up camp on. We were thankful that the threat of rain was nil, because the only places to pitch a tent without first needing about ten hours of prep work with D10 bulldozer (and perhaps some high explosives) was right in the wash. With no threat of rain, I wasn't terribly concerned, but even so, we did find a small terrace about 18 inches above the main channel, which would have kept us dry in case of a small shower.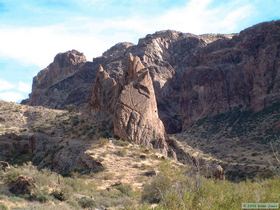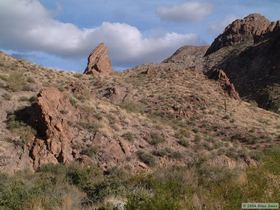 After setting up camp, we set out again to try to find Tunnel Springs, supposedly some half-mile distant from camp. Tunnel Spring was nowhere to be found in the vicinity of where my GPS said it was, so we went home defeated, and thankful that we weren't depending on it for water.

We got back to camp dead tired, and both of us kept our expension of energy to an absolute minimum. Steve made some tea for both of us, then we each made our dinners. After dinner, I made hot chocolate for both of us. And right after that, after a little reading (Steve) and writing (me), we went to bed. I don't think we even made it to eight o'clock!
---
Day 1 | Days 2 and 3
---
| | |
| --- | --- |
| | |
| | |