Added 22 January 2006
---
Day 1 | Day 2 | Day 3 | Day 4 | Day 5 | Day 6
---
A number of my friends have made extended excursions down the Baja penninsula in Mexico, but I've never been able to join them. So when my good friend Chuck invited me on a week-long trip between Christmas and New Years, I jumped at the chance. Another mutual friend (another Brian, like me) joined us and together we explored Baja by land and by sea.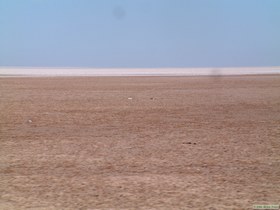 Chuck and Brian showed up at about 6:30 a.m. on Tuesday the 27th to pick me up for our trip to Baja, Mexico. Since Brian brought Cherokee, I rode with Chuck. We had an uneventful drive west to Calexico and on through the border into Mexico. The drive across northern Baja is pretty, but desolate, especially while driving across Laguna Salada, a large very flat dry salt lake bed. There is virtually no vegetation, but the geology of the area proved to be quite interesting.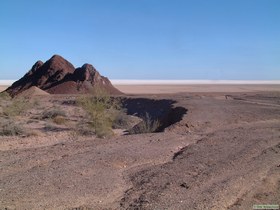 We stopped in San Felipe for gas and to get our tourist visas. There, the immigration officer said "You're in luck today."
The normal procedure for getting the tourist visa is to fill out the form, take it over to the bank to pay the $20 fee, then bring the form and the receipt from the bank back to the immigration office to get the visa. Apparently some other tourists had either arranged for and/or paid for five visas ahead of time, but canceled their trip, so the immigration officer said he could save us from having to go to the bank to pay. We're pretty convinced that the immigration officer pocketed the $60 we gave him, but since we would have had to pay that amount anyway and since it saved us a lot of hassle. None of us were complaining.
By the time we left San Felipe, we had less than two hours of light left, so we went south to a place to camp that the immigration officer recommended, Laguna Percebú. I didn't find Percebú to be an impressive place, but since it was getting dark, we decided to stay at the palapas there, despite the $15 per night price tag. But first, Brian agreed to help pull some gringo out of the tidal mud pit he got stuck in. When we got down to where the guy was stuck, my first thought was "Oooh, THAT'S not good . . ." Why he was even driving where he got stuck is beyond my comprehension. Only dire circumstances would have made me even think about trying to get a vehicle across it. But there he was . . . And Brian thought (or at least hoped) that he could get the guy out.
Quite frankly, I didn't think there was much of a chance that Brian would be able to rescue this guy. He was stuck clear up to his undercarriage in a really sticky gumbo of fine sediment and sand. Brian parked on the dry beach near the stuck truck and tried to winch the guy out. The winch only pulled Brian towards the truck instead of the other way around. Then we hooked Brian's Jeep up to a full size truck to use it as an anchor. That prevented Brian's Jeep from sliding, but didn't accomplish anything because the load exceeded the capacity of his 9000 pound winch. This guy was stuck but good.
Brian then tried to simply pull and jerk the truck out, but that didn't work either. The truck didn't even shake when Brian jerked tension on the tow straps. While we were doing all of this, a regular to the area got some locals to come and help, and they agreed to dig the guy out for $150. With the tide coming in, which would have destroyed the truck and would not have been covered by the insurance, the offer was too good to refuse.
At that point we headed back to the palapas where we had chosen to camp. (Palapas are basically just small ramadas that you find all over Baja that you can pitch a tent under.) I went down to tide pool to clean all of the mud off of me (somehow I ended up with the dirtiest part of the whole job), and when I got back Chuck and Brian suggested finding another place to stay, since it seemed likely that we would have to endure drunks and yahoos on quads and dirt bikes until god knows what hour of the morning. I readily agreed to move on despite the setting sun.
It was well after dark by the time we found a secluded stretch of beach near Los Olivos, north of Puertecitos. It was beautiful, it was quiet, and it was free! All was right with the world.
The plan was to do some kayaking first thing in the morning, so I inflated my kayak to get it ready to go. Since I had decided to sleep under the stars that night, I figured I would go ahead and try to just sleep in the yak.
---
Day 1 | Day 2 | Day 3 | Day 4 | Day 5 | Day 6
---
| | |
| --- | --- |
| | |
| | |